Mahjong Solitaire Deluxe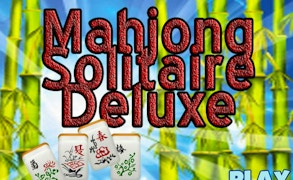 Mahjong Solitaire Deluxe
It's time to immerse yourself in the captivating realm of strategy and skill with the compelling board game, Mahjong Solitaire Deluxe. This free solitaire game challenges players to clear all pieces from the board, a delightful mental exercise cloaked in an engaging form of entertainment.
In your search for top-notch mahjong games, Mahjong Solitaire Deluxe is a shining beacon that stands out amongst its peers. Traditional mahjong tile-matching soars to new heights in this superior rendition. Its deluxe adjective is not just a fancy name appendage, but a true reflection of its high-quality design.
The gameplay elicits an intense yet delightful mental gymnastics as you manoeuvre through each level with strategic precision. Your task is to eliminate all tiles from the board, a mission that keeps your intellectual gears grinding as you pit brains against the AI or your fellow gamers. Woven into this aesthetically pleasing interface are intuitive controls that seamlessly sync with your thought progression.
This beautifully designed mahjong game combines classical elements with modern digital gaming innovations. The result? A rich tapestry of visual and intellectual stimulation that makes it a staple amongst Mahjong Solitaire Games. Its high-definition graphics and smooth animations transform each match into an eye-catching spectacle.
In conclusion, Mahjong Solitaire Deluxe sets the bar for other mahjong games; it's not just another solitaire game but an immersive experience that keeps you engaged and thirsty for more. Tackle its challenging puzzles and lose yourself in a world where mind and matter merge effortlessly.
Unleash your strategy skills today by diving into this exciting free solitaire game -
Mahjong Solitaire Deluxe!
What are the best online games?
TAGS