Mahjong Shanghai Dynasty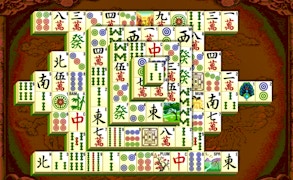 Mahjong Shanghai Dynasty
If you're a fan of engaging brain games and immersive oriental aesthetics, then you're going to love the classic charm of Mahjong Shanghai Dynasty. This game is a standout in the rich field of mahjong games, and it's sure to ensnare your attention with its captivating gameplay and pleasing visual elements.
The game's core mechanic is simple, but compelling: connect matching pairs to clear the board. However, what sets Mahjong Shanghai Dynasty apart is how this simple premise is elevated by stellar design and engaging brain-tickling puzzles. The gameboard itself looks like a stack of beautifully crafted mahjong tiles, exuding the charm of an ancient Chinese dynasty. The tiles are drawn with a great amount of detail, adding to the authenticity and making every move feel vital and tangible.
But Mahjong Shanghai Dynasty isn't just about pleasurable aesthetics; it also provides a solid challenge for your gray matter. The multitude of tile arrangements require discerning vision and strategic thinking. It's not just about finding pairs, but about understanding what choices will open up more possibilities for future moves. Each game becomes a dance between risk and reward, immediacy and patience.
In terms of sound design, the gentle oriental music accompanies every maneuver you make, creating a zen-like atmosphere that engulfs you as you delve deeper into this cerebral adventure. An auditory treat that complements the visual pleasures perfectly.
In conclusion, Mahjong Shanghai Dynasty flawlessly mixes the enthralling mind-challenge of mahjong with the allure of historical Chinese culture. It's more than just a game; it's visual poetry interlaced with mental gymnastics that will surely appeal to fans of brain games everywhere. To call it anything less than an enchanting journey through mahjong mastery would be selling it short.
What are the best online games?
Tags