Mahjong Linker: Kyodai Game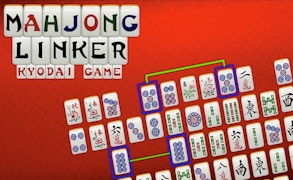 Mahjong Linker: Kyodai Game
Dive into the ancient world of board games with Mahjong Linker: Kyodai Game. Famed for its stunning graphics and captivating gameplay, this new addition to mahjong games is sure to steal your heart. Discover the fascinating fusion of strategy, speed, and wit in this majestic Kyodai game.
Each jade-green tile etched with vibrant characters whisks you away to a land of tradition and tranquility. Yet, beneath its seemingly serene surface, the game transitions smoothly from a tranquil pastime to a race against the clock.
As a player, you're tasked with linking Mahjong tiles in a maximum of three lines. Though it might sound simple enough, it's this minimalist challenge that proves a true test of both patience and agility. The pressure mounts as you move through each level - you must think wisely but act quickly as your time ticks away.
This free game presents an alluring mix of puzzle and speed. On one hand, it requires careful contemplation; on the other hand, swift decisions need to be made to beat the ticking clock. This dynamic dual-core action makes Mahjong Linker: Kyodai Game more than just another item in the wide-world catalog of mahjong games – it places it firmly among top contenders.
Whether you're an avid lover of puzzle games, or if speed-driven action is more your style, Mahjong Linker: Kyodai Game flawlessly integrates these elements into one electrifying package. So gear up for some intense brain training infused with adrenaline-fuelled fun!
Experience today how this modern twist on a classic game redefines what it means to play mahjong games. Truly an exquisite blend of strategy and speed - don't miss out on Mahjong Linker: Kyodai Game!
What are the best online games?
TAGS