Mahjong Grand Master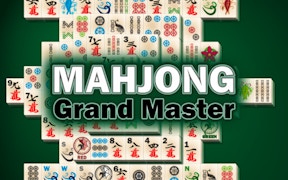 Mahjong Grand Master
Step into the enchanting world of Mahjong Grand Master, an extraordinary game that breathes fresh life into the traditional tile-based game of Mahjong. If you're an aficionado of classic mahjong games, prepare to have your expectations shattered and rebuilt in the most delightful way possible!
From the moment it loads, Mahjong Grand Master serves up a delectable feast for the senses. Uniquely designed tiles are scattered across intricate boards, indulging players in a visual delight unlike any other Mahjong game on the market. Each flourish, every click and clang as you match tiles - it all swirls together into a mesmerizing blend of sight and sound.
However, where Mahjong Grand Master truly shines is in its groundbreaking level editor feature. This unique addition empowers players to become creators, transforming their gaming experiences from passive to participatory. Design your own levels, challenge your strategic thinking and puzzle-solving prowess like never before!
This innovation propels Mahjong Grand Master ahead of its competitors in the sphere of mahjong games. It's not just a game; it's a canvas where creativity takes center stage and challenges tradition. Whether you're a seasoned gamer or new to the world of mahjong – this game will delight and surprise you in equal measure.
In conclusion, if you're seeking more than just another mahjong game - if you're looking for an unforgettable journey that transcends gaming norms, then look no further than Mahjong Grand Master. This isn't simply an evolution of the genre; it's a revolution.
Turn off reality, switch on Mahjong Grand Master, enter a realm where strategy meets creativity – you won't want to leave.
What are the best online games?
Tags