Mahjong Duels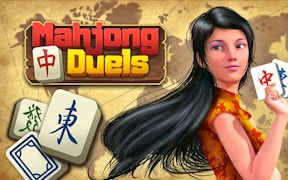 Mahjong Duels
Unleash your inner strategist and prepare to engage in a battle of wits with Mahjong Duels, the latest addition to the captivating universe of mahjong games. This game brilliantly fuses the traditional Chinese game of skill and strategy, and catapults it into the social arena for an exhilarating gaming experience. As a testament to its commitment towards promoting cognitive fitness, Mahjong Duels stands tall as one of the most engaging brain games on the virtual landscape.
Dive into the fascinating world of Mahjong Duels, where every match is a thrilling journey filled with mysterious symbols representing bamboo, dragons, digits, and other diverse elements. Each symbol houses a unique power that can tilt the game in your favor. This dynamic aspect makes it more than just a 2-player game; it becomes an intense duel where only the most astute players emerge victorious.
The beauty of this multiplayer version lies in its seamless blend of traditional mahjong rules with contemporary social gaming dynamics. You're not merely matching mystical tiles, you're stepping into the shoes of a Chinese master, strategizing your moves under pressure while racing against time. The true test lies in challenging and defeating your friends by being the first to find matching symbols.
The thrill of visualizing your strategy, making precise moves only to create room for more strategic gameplay makes Mahjong Duels an irresistible introduction into the realm of 2 player games. This game provides not merely an entertaining diversion but also serves as an effective brain booster. So, gear up to unleash your inner strategist and embark on a thrilling journey in this enchanting world of digital Mahjong Duels.
What are the best online games?