Mahjong Deluxe 2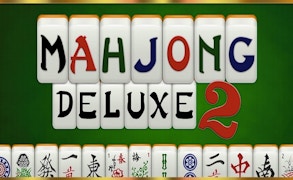 Mahjong Deluxe 2
Dive into the alluring world of classic board games with Mahjong Deluxe 2, an engaging game that tests both your strategic thinking and patience. This reinvention of a timeless classic invites you to immerse yourself in a challenging world of tile association; an experience that has, for ages, guaranteed countless hours loaded with absolute pleasure and mental stimulation.
The hypnotic allure of Mahjong games is truly brought to life by the simple yet captivating game mechanics. At the start, a board clad with intriguing tiles beguiles you into the gameplay. Your task? Diligently associate these different tiles, make them vanish into the ether, and empty each enchanting level. The basic simplicity of this task belies its true challenge—each level requires careful thought and strategy, keeping your mind engaged as you navigate through each intricate maze.
The true charm in Mahjong Deluxe 2 lies in its mastery of balance—simple enough for beginners to grasp, yet filled with layers that bewitch even seasoned mahjong veterans. It dares you to challenge your limits, pushing your capacity to think on multiple levels simultaneously while eliciting thrill from success and determination from failure.
In a nutshell—a journey with Mahjong Deluxe 2 is less about reaching a destination and more about enjoying every twist and turn along the way. Whether you're new to mahjong games or have been playing them for years, Mahjong Deluxe 2 is a delightful addition to your repertoire. Its beguiling simplicity coupled with its depth in strategy offers an irresistible fusion that has solidified its position as a must-have for any mahjong lover.
A right tonic for those seeking brain teasers or simply wishing to unwind after a long day, step into the enchanting world of Mahjong Deluxe 2 and revel in the charm classical board games hold even today!
What are the best online games?
Tags