Mahjong Connect Remastered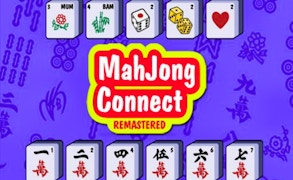 Mahjong Connect Remastered
Step into a realm of strategy and serenity with the newly remastered version of the quintessential brain game, Mahjong Connect Remastered. A classic in the realm of Mahjong games, this version delivers an unsurpassed aesthetic appeal with its superior graphics and smoother, more relaxing gameplay.
If you're a fan of brain games, you'll revel in the enhanced intricacies offered by Mahjong Connect Remastered's 12 ingeniously designed levels. Each level is a standalone challenge that puts your cognitive skills to the ultimate test. This compelling game compels you to match similar tiles while navigating through intricate layers and complex patterns -- the perfect brain teaser for both beginners and seasoned Mahjong players.
The remastering process has given an appealing facelift to our beloved classic Mahjong game. Graphics are done to perfection – they are colourful, crisp and delightful to gaze upon. You're not just matching random tiles; you're partaking in an elaborate visual feast that engages as much as it entertaines.
Another tweak that sets Mahjong Connect Remastered apart from its previous iterations is the smoother gameplay. Gone are the days of lags and stutters that can break immersion. Now, every flip and match flows seamlessly, mirroring the calming rhythm of a tranquil river.
In conclusion, Mahjong Connect Remastered is a harmonious blend of cognitive challenge and digital artistry. It's not just another brain game; it's a testament to what happens when technology meets traditional board games - a truly captivating experience.
What are the best online games?
Tags