Magic Lines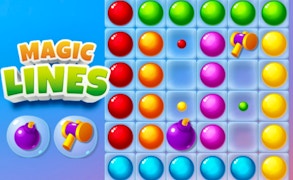 Magic Lines
Step into the world of vibrant hues and strategic maneuvers with Magic Lines, a stimulating entrant in the realm of coloring games. This puzzle game challenges your mind and titillates your senses, with its mesmerizing visuals and enthralling gameplay. The concept is simple but addictive; create lines of 5 or more balls of the same color, vertically, horizontally, or even diagonally to eliminate them.
What sets Magic Lines apart from the flood of other ball games out there? It's the tangible thrill that comes with every move you make. The ticking clock, the mounting pressure as the balls start to saturate the board – you'll need to strategize swiftly because you can't let those balls take over completely! And just when you think you're in a pinch, along comes an arsenal of special items - Undo, Hammer, and Bomb. Therein lies another layer of strategy - using these tools wisely to navigate through challenging stages.
However, this isn't just another match-3 game. Its unique spin on traditional mechanics will keep even seasoned gamers intrigued. Visit everyday for daily rewards - an extra spin on the Lucky Wheel could get you bonus items that might just turn the tide in your favour.
The sheer joy of watching your name climb up the leaderboard as you rake in high scores is an experience only surpassed by solving complex puzzles doused in stunning colors. Whether it is to kill time or challenge yourself mentally after a long day, Magic Lines never fails to entertain.
In conclusion, if exciting ball games blended with strategic match-3 games speak to your gamer soul; then add a dash of vibrant coloring games to this mix and behold! You've got Magic Lines. Give it a spin today – see if you can master its crafty puzzles while basking in its color-infused glamour!
What are the best online games?