Ludibubbles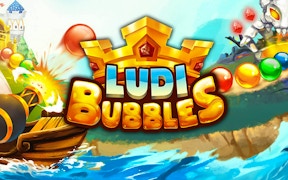 Ludibubbles
Step into a vibrant world of color and motion as you take on the exciting challenge of Ludibubbles, an invigorating entrant in the realm of arcade games. Perfectly melding elements of popular ball games, Bubble Shooter Games, and match 3 games, Ludibubbles manages to be simple yet incredibly addicting, offering players an immersive gaming experience.
The essence of Ludibubbles is centered around shooting multi-hued bubbles into a sky full of similar spheres. The game's simplicity lies in its rules: line up your shot, let it fly and watch as matching colors bond together before exploding in a satisfying visual spectacle. Yet, despite its apparent simplicity, it packs a punch with its challenging gameplay that keeps you coming back for more.
The momentum-filled dynamics coupled with intelligent level design truly sets Ludibubbles apart from other match 3 games. As a player, you need to strategize your moves carefully, predicting the cascade of bubbles that will follow. And the more bubbles you pop in succession, the higher your score multiplies!
A notable highlight of Ludibubbles is its captivating and pleasing aesthetics. The colorful vibrancy of the game breathes life into every bubble shot and matched trio. This seamless blend of engaging gameplay with visually appealing graphics is what makes Ludibubbles a standout in the crowded field.
In conclusion, Ludibubbles brings an addictive twist to conventional ball games, skillfully incorporating elements from other popular gaming genres like Bubble Shooter and match 3 games. With its colorful dynamics and addictive gameplay intricately designed to keep you hooked for hours on end, Ludibubbles offers lots of thrills to all arcade game lovers out there!
What are the best online games?