Low's Adventures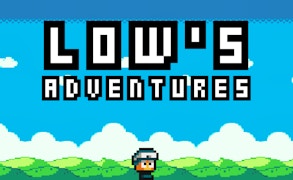 Low's Adventures
Description
Embark on a thrilling pixelated journey in Low's Adventures. Set in a fascinating world full of obstacles and challenges, you'll take on the role of Low, a courageous adventurer. The game boasts an engaging storyline with various levels that will test your skills and ignite your adventurous spirit. With its retro-inspired graphics, Low's Adventures promises an unforgettable gaming experience.
How to Play
Navigate through each level using the standard arrow keys to move Low. Use quick thinking to overcome obstacles and puzzles along the way. The key to progression lies in leveraging your environment and finding the path through seemingly impossible setups. As you advance, don't forget to collect power-ups that will enhance Low's abilities.
Tips and Tricks
To master Low's Adventures, it's crucial to time your movements carefully especially when navigating past moving obstacles. Often, the solution to complex puzzles lies in observing patterns of moving elements. Remember, every mistake is a lesson towards success in this adventurous game.
Features
Retro-style pixel graphics: Giving a nostalgic throwback to classic adventures.
Diverse levels: Ensuring endless hours of engaging gameplay.
Puzzle-solving elements: Providing mind-boggling challenges.
Collectable power-ups: Adding an extra layer of strategy and fun.
What are the best online games?
Tags