Love Dots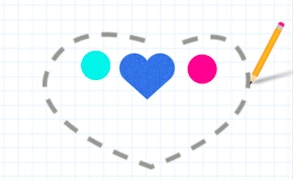 Love Dots
Immerse yourself in the charming world of Love Dots, a delightful entrant into the repertoire of puzzle games. This captivating game flawlessly merges elements of ball games, skill games, and drawing games to deliver an unrivaled gaming experience that will leave you hooked.
In this enchanting game, your primary task is to find a unique way to unite two love-struck balls. Sounds simple, doesn't it? But don't be fooled by its seemingly simple premise! With each progressing level, you'll encounter increasingly challenging stages that require not only deft skills but also a creative mindset.
The beauty of Love Dots lies in its simplicity. The game draws you in with its minimalist design and easy-to-understand mechanics but keeps you engaged with its progressively challenging puzzles. The concept of drawing lines or shapes to bring together two entities provides a refreshing twist to the traditional puzzle genre and enhances the overall gaming experience.
A fascinating aspect of Love Dots is its ability to test your mettle as a gamer. Its gameplay is not merely about guiding balls towards each other but also about revealing your skills and imagination. It challenges you to think out-of-the-box and come up with innovative solutions to clear the levels. Moreover, with no restrictions on drawing, it offers unlimited possibilities for solving puzzles, adding an extra layer of intricacy.
In conclusion, Love Dots is a splendid amalgamation of skill-based puzzles and artistic creativity that redefines the genre of puzzle games. It's a must-try for all puzzle enthusiasts who are looking for something more than just matching tiles or clearing levels. Give it a shot and let Love Dots take you on an unforgettable journey through its enthralling world!
What are the best online games?