Long Neck Run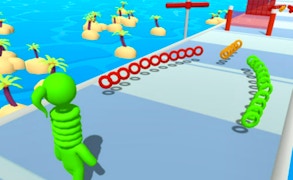 Long Neck Run
For fans of running games, stickman games, and Hyper Casual Games, your next addictive marathon is here: Welcome to Long Neck Run. This game ingeniously weaves the energy of arcade gaming with the goofy charm of a 3D stickman protagonist, offering a refreshingly humorous spin on the commonly intense running game genre.
In Long Neck Run, standing head and shoulders above everyone isn't just a metaphor—it's the ultimate goal! Your mission is simple: collect as many color-matching rings as you can while sprinting towards the finish line. The more rings you gather, the taller your character grows. Imagine rivalling the Eiffel Tower's height in your boisterous race to victory!
The game's art design—complete with quirky 3D stickfig animations—is an absolute visual feast. The ecstatic joy of witnessing your character tower over buildings gives off all the thrill of a high-stakes arcade game while maintaining a laid-back casual tone.
Each successful run unlocks taller buildings and more items to tower over, morphing your gaming experience into an endless celebration of growth where every new color ring brings you one step closer to becoming the tallest entity in-game.
In conclusion, Long Neck Run introduces a delightful twist on classic arcade running games, ingeniously folding in elements from stickman games and Hyper Casual Games. With vibrant visuals, comedic gameplay mechanics, and an irresistibly addictive progression system, it is an experience that will surely excite gamers across all genres. Be warned though—once you start aiming for those towering heights, it's hard to come back down!
What are the best online games?