Little Dino Adventure Returns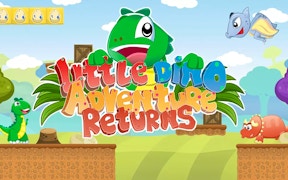 Little Dino Adventure Returns
Step into a world where the prehistoric collides with the fantastical in Little Dino Adventure Returns, a vibrant, captivating 2D arcade game that takes animal games to a whole new level. Dive headfirst into an environment filled to the brim with dazzling colors and breathtaking designs that perfectly encapsulate the thrills and spills of this adrenaline-pumping platform adventure.
The little Dinosaur, our valiant protagonist, must navigate across the treacherous terrain of the 'valley of fear'. A place wrought with obstacles at every corner, it's up to you to guide him through these challenges. From the first moment you take control, you'll discover that this isn't just your regular dinosaur game. No, Little Dino Adventure Returns pushes the boundaries of Skill Games, demanding precision timing and expert navigation skills for an exhilarating gaming experience.
Boasting an impressive range of six meticulously crafted levels, each one will challenge your mettle in new and unexpected ways. Whether you're playing on a keyboard via arrow keys or prefer using touch buttons on your smartphone screen, every stage in this game is designed to test you every step of the way. To achieve ultimate glory and secure three golden stars on each stage, be prepared to collect all golden eggs cleverly placed just out of reach or hidden behind cunningly laid traps.
In the end, Little Dino Adventure Returns is no mere game: it's an adrenaline-fueled journey into a mesmerizing blend of challenge and fun. From its gorgeous visuals to its tight gameplay mechanics, it sets itself apart as a standout title in both animal and dinosaur games category. So leap into action and immerse yourself in this brilliantly designed world. Whether you're a seasoned gaming veteran or new to the scene – this is one adventure you don't want to miss out on!
What are the best online games?