Liquid Sort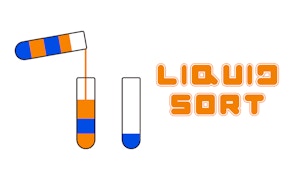 Liquid Sort
Description
Are you ready for a brain challenge? Liquid Sort is an engaging and stimulating puzzle game with over hundreds of mind-boggling levels. In this colorful game, players need to methodically sort different colored liquids, which isn't as easy as it sounds. The fun graphics and tricky challenges provide the perfect blend of relaxation and mental stimulation.
How to play
The goal is simple: sort the colored liquid into separate jars until all colors in each jar are the same. Click and drag your mouse to pour the color from one jar to another. But remember, you can only pour a color on top of the same color or into an empty jar. The challenge grows as you advance through levels.
Tips and Tricks
Plan your moves before you start pouring. Think carefully about which colors need to go where. Avoid getting stuck with no available moves by keeping at least one jar empty whenever possible. And don't rush - sometimes, slower is faster in this brain teaser!
Features
Pleasant Graphics: Eye-catching, bright visuals that help enhance gameplay.
Addictive Gameplay: Simple yet challenging game mechanics keep players hooked for hours.
Hundreds of Levels: Endless fun with numerous levels, each offering a distinct challenge.
Mental Workout: A great brain teaser that tests your logical thinking and problem-solving skills.
What are the best online games?