Lipuzz - Water Sort Puzzle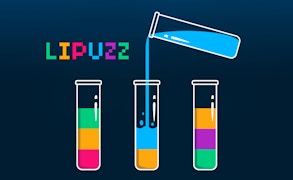 Lipuzz - Water Sort Puzzle
Description
Engage your mind and have a blast with Lipuzz, an exciting puzzle game that tests your memory and logic. Your objective is to segregate liquids of identical colors into separate containers. However, there's a twist: you can only pour liquid into empty containers or those already containing the same colored liquid. The challenge lies in managing and swapping the containers effectively without ending up in a deadlock.
How to play
The gameplay of Lipuzz is deceptively simple. You click on a container to select it, and then click on another container where you want to transfer the liquid. The container must either be empty or already filled with the same colored liquid. If you find yourself stuck at any level, you can request an extra container from the top menu.
Tips and Tricks
To navigate through the increasingly difficult levels, it's critical to plan ahead. Try as much as possible not to fill up any of your containers until absolutely necessary as it limits your choices for future moves. Also, remember: if all else fails, there's always an additional container available!
Features
Mind-stimulating puzzles: tests your memory and logical thinking.
Addictive Gameplay: simple yet challenging rules keep you coming back for more!
Puzzle Progression: difficulty increases with each level, keeping you constantly challenged.
Crisp Colors: vivid color palette making gameplay visually appealing.
What are the best online games?