Laser Run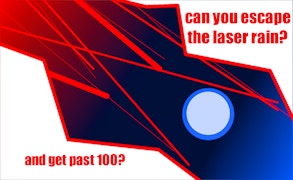 Laser Run
Description
Laser Run is a thrilling arcade game where your agility and quick reflexes are tested to the maximum. You find yourself trapped in an arena with lethal lasers raining down on you incessantly. Your primary aim? Survive and outrun the relentless laser assaults as long as possible. Do you have the grit to break your own record and clear the 100 mark?
How to play
The gameplay mechanics of Laser Run are extremely simple yet challenging. Use your keyboard arrow keys to navigate and dodge the deadly lasers. Be vigilant, swift, and strategic in moving your character around the arena. Each second you survive marks your progress in this heart-pounding game.
Tips and Tricks
Predicting laser patterns is crucial in Laser Run. Pay close attention to their movement frequency and adjust your moves accordingly. Avoid getting cornered, always keep moving, and don't forget that survival is more important than rushing through levels.
Features
Straightforward Controls: Simple keyboard arrow keys are all you need to play.
Addictive Gameplay: The more you play, the more you want to beat your high score.
Challenging Difficulty Curve: This game increases its difficulty level with every passing second, keeping players on their toes.
Infinite replayability: With no two games being the same, enjoy unlimited hours of fun.
What are the best online games?