Lappa Jigsaw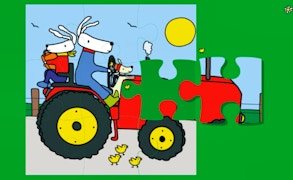 Lappa Jigsaw
Welcome to our latest review of one of the most gleaming gems in the world of Games for Kids and specifically animal games. Today we're delving into the magical realm of 'Lappa Jigsaw', a glistening star in the expansive galaxy of kids puzzle games.
Lappa Jigsaw, as the name suggests, is a vibrant jigsaw experience designed exclusively for our little champions. This kids friendly game is a delightful blend of education, fun and creativity. One of its unique selling points has to be its compelling set of cute animal animations. Not only do they add a layer of visual excitement, but they also help cultivate the spirit of curiosity about wildlife among children.
The gameplay is as easy as pie yet engaging enough to keep your young ones captivated for hours on end. The variety and charm in animal games within Lappa Jigsaw would surely take your kid's puzzle-solving skills to the next level. It's not just about joining pieces together, it's about understanding shapes, colors, and enhancing their critical thinking.
The visual design is colorful, with each piece coming alive with a dash of liveliness that sets it apart from other games for kids. The delightful animations are wonderfully implemented making every solved puzzle a joyous celebration.
In conclusion, Lappa Jigsaw shines out as an incredible addition to children's gaming sphere. Its wave of fun-filled learning further positions it as an ideal choice for parents seeking games for kids that contribute positively to their cognitive development. It's time you let your child unleash their unexplored potential in this enticing world of jigsaw puzzles!
Remember folks! Gaming isn't just about having fun; it is also about learning new things and sharpening those grey cells! And
Lappa Jigsaw
, brings all these elements together under one interactive, kid-friendly platform.
What are the best online games?