Lambo Drifter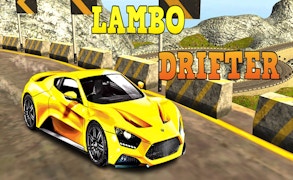 Lambo Drifter
Immerse yourself in the exhilarating world of arcade-style racing with Lambo Drifter, an action-packed delve into the realm of car games that's all about the thrill of the drift. This game is a well-polished gem in the growing collection of drifting games.
The magic of Lambo Drifter lies not just in its stunning 3D graphics but also its ability to engage players. This racing game puts your driving skills to the ultimate test. With every turn and every drift, you're pushed to your limits, coaxing you into sliding your car just a breath away from disaster.
The more you play this exciting driving game, the more rewards you reap. As you masterfully slide through turn after turn, you level up your profile, unlocking new tracks that test your abilities further. The roster of cars grows with each achievement, offering better speed, control, and style than the last.
But Lambo Drifter isn't just a solo ride. Beat your friends' records and rise to be the paramount drifter on the global leaderboard. This interactive feature injects a layer of competitiveness that intensifies its thrilling nature.
The appeal of Lambo Drifter doesn't stop at its gameplay mechanics; it's also joyfully addictive! The feeling of successfully executing a tricky drift or beating a friend's high score is gratifying beyond measure making it one of the best racing games out there for drifting enthusiasts.
If you're looking for a game that pushes boundaries while offering rewarding progression and friendly competition – then buckle up, rev those engines and dive headfirst into Lambo Drifter. The ultimate ride in drift car games is waiting for you!
What are the best online games?