Ladybug Hidden Hearts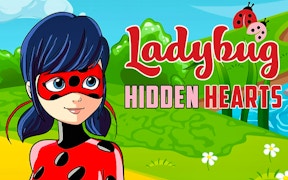 Ladybug Hidden Hearts
Enter the breathtaking world of Ladybug Hidden Hearts, the newest sensation in Games for Girls and Games for Kids. This interactive, free online game brilliantly combines the thrill of hidden object games with an enchanting twist that keeps young gamers captivated from start to finish.
The objective is simple yet intriguing. Your mission, should you choose to accept it, is discovering hidden hearts meticulously cloaked within vibrant images. Each level harbors 10 hearts so well camouflaged within the visual splendor that finding them becomes an exhilarating challenge.
The game features six awe-inspiring levels, each more captivating than the last thereby ensuring a gaming experience that never loses its charm. The time constraint adds an exhilarating twist to this already riveting game. It's a test not just of your keen observation skills but also your ability to perform under pressure.
However, beware! With every click in the wrong place, you lose 5 precious seconds off your clock. This adds a layer of tension and excitement as you try to unravel these intricate heart puzzles before time runs out. It's a thrilling race against time!
In Ladybug Hidden Hearts, whether you're already a fan of hidden object games or new to this genre, you're guaranteed an incredible gaming journey full of mystery and excitement. If you are ready for this vibrant challenge of seeking hidden hearts and racing against time then jump right in and let the fun begin!
What are the best online games?