Kung Fu Street 2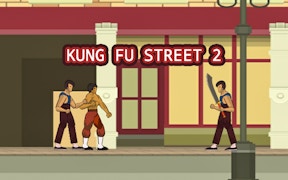 Kung Fu Street 2
If the thrill of boxing games, the tension of battle games, and the adrenaline of survival games get your gaming heart racing, you're in for one wild ride with Kung Fu Street 2. This highly anticipated sequel once again merges some of our favorite genres into one immersive, action-packed universe.
In Kung Fu Street 2, every lane is a battlefield, every alley a war-zone. It combines the tactical strategy of survival and battle games with the visceral rush of boxing games. You'll need to bob and weave like a champion boxer, strategize like a seasoned soldier, and survive against all odds.
For fans of the original Kung Fu Street, worry not; this sequel isn't just playing on nostalgic heartstrings. Kung Fu Street 2 brings in never-before-seen mechanics that elevate it from a mere follow-up to a worthy successor. It's like watching the evolution of an amateur street fighter into a seasoned kung fu master.
From its compelling graphics to its intricate gameplay mechanics, Kung Fu Street 2 isn't just another fighting game; it's an experience. Its gritty atmosphere transports you straight onto the streets where every fight could be your last. The game's real-time combat keeps you on your toes as you execute tactical strikes, combos and strategic blocks - a definitive nod to both boxing and battle gaming genres.
To survive in Kung Fu Street 2, you'll need nerve, strategy, and skill - making it an unequivocally intense gaming experience that fans of boxing games, battle games, and survival games will all equally relish.
In conclusion, Kung Fu Street 2 isn't just playing- it's surviving, fighting and conquering. If you have been on the hunt for a fusion between boxing games, battle games or survival games with an extra dose of intensity – Kung Fu Street 2 is your final destination.
What are the best online games?