Kris Mahjong Animals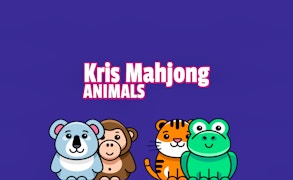 Kris Mahjong Animals
Description
Kris Mahjong Animals is an engaging game that infuses adorable animals into traditional mahjong gameplay. The fast-paced fun will keep you entertained while strengthening your observation skills. As a player, your objective is to pair identical tiles quickly and accurately before the timer runs out. Your senses are put to the test in this innovative twist on a classic game!
How to Play
Kris Mahjong Animals requires a sharp eye and swiftness of hand. Simply use your mouse or touchscreen to select two identical tiles that are not surrounded by other tiles on their left and right sides. Aim to clear as many tiles as possible before the time expires. Your progress depends specifically on your accuracy and speed!
Tips and Tricks
To excel in Kris Mahjong Animals, it's essential to plan ahead. Focus on pairs that will open up more pairs, helping you keep the game alive for longer. Don't hesitate to shuffle if you're stuck but remember, time is of the essence! The quicker you find pairs, the higher your score climbs.
Features
Vibrant Graphics: Cute animal-themed tiles.
Pulsating Gameplay: Time-based challenges with increasing difficulty.
Versatility: Playable on desktops, laptops and mobile devices.
Addictive Fun: Suitable for all ages and skill levels.
What are the best online games?