Kong Climb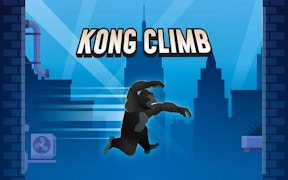 Kong Climb
Welcome to the wild jungle of Kong Climb, a masterpiece in the realm of animal games that thrusts you into a world of endless vertical adventures. This riveting arcade style game, which marries skill and hyper casual gaming, will catapult you into an exhilarating journey of high-flying fun.
Set in an intricately designed landscape, Kong Climb is much more than your typical hyper casual game. It challenges your dexterity at every turn. The goal is simple; guide Kong up a perilous tower while exhibiting your prowess in skill games. But remember, Kong is no ordinary monkey – he's a powerful gorilla with the strength to scale seemingly impossible heights.
As with all great animal games, there are power-ups that aid your ascent. Feast on bananas to imbue Kong with Herculean strength or munch on chillies to transform him into a lightning-fast ape. These power-ups not only bolster your progression but add an extra layer of strategy, making Kong Climb both challenging and rewarding.
The fun doesn't stop there. Every climb redefines the term 'edge-of-your-seat' excitement as you constantly pursue new records - How high can Kong climb? Can you beat your own score or even surpass scores from players around the globe?
In summary, with its fusion of arcade style gameplay, skill-based challenges, and exciting power-ups, Kong Climb will certainly have you hooked for hours on end. It's a game that embodies the essence of animal-themed hyper casual games while successfully raising the bar for all future skill games. So what are you waiting for? Join Kong in his thrilling climb now!
What are the best online games?