Kogama: Zoo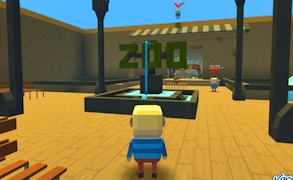 Kogama: Zoo
In the vast cosmos of multiplayer gaming, only a few gems catch our attention and provide a unique gaming experience. One such title is the lively world of Kogama: Zoo. A delightful mix of pixel graphics and a zoo setting, this game catapults you straight into a menagerie of pixelated animals and grand adventures, making it one of the top-ranking animal games in the multiplayer sphere.
Engross yourselves in this exquisitely designed pixel universe where every nook and cranny begs to be explored. As an adventurer, your mission is to explore all areas in this captivating zoo, discovering new animals and treasure troves with every step. The high-resolution pixel games aesthetic adds a nostalgic charm that resonates with gamers fondly reminiscent of 90s era gaming.
Kogama: Zoo offers an extensive multiplayer experience that encourages communication and teamwork. You are free to roam around the zoo, interact with various creatures, participate in fun activities and quests with friends or players worldwide. With its player-friendly interface and intuitive controls, this game becomes an instant favorite among players irrespective of their age or gaming proficiency.
The magic of Kogama: Zoo lies not just within its gameplay but also in its detailed graphics design. Be it the sun-dappled forest full of twinkling pixels or the grandeur of snow-capped mountains under the neon blue sky; players are treated to a visual spectacle as they navigate through different zoo areas.
In conclusion, Kogama: Zoo sets itself apart as an engaging multiplayer animal game with its unique zoo-themed pixel world exploration. The compelling blend of nostalgia-inducing pixel art style, charming animal counterparts and mesmerizing landscapes make it a go-to choice for those seeking a light-hearted yet thrilling multiplayer adventure in their gaming repertoire.
What are the best online games?
TAGS