Kogama: CubeCraft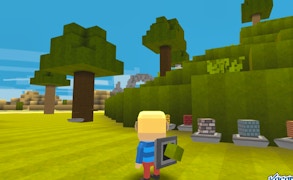 Kogama: CubeCraft
Immerse yourself in the intricate world of Kogama: CubeCraft, one of the standout titles in the panoramic universe of multiplayer Minecraft games. A unique blend of pixel games and building games - Kogama: CubeCraft is a virtual sandbox that allows the expansion of your creative horizons.
A testament to the allure of simplicity, this game carries the torch forward from its predecessors within the much-loved realms of pixel games and Minecraft Games. It merges blocky aesthetics with limitless opportunities for creating vibrant, expansive worlds from scratch. The ostensible simplicity belies an underbelly thriving with opportunity, making it impossible to write off as just another game in a long line of Minecraft derivatives.
The cornerstone of Kogama: CubeCraft lies in its ability to facilitate unbridled creativity within its pixelated canvas. In this world governed by blocks, you are only as limited as your imagination. Whether you wish to create sprawling urban landscapes, secluded island getaways or chaotic battle arenas, this is a game that rewards initiative and innovation.
Among multiplayer building games, Kogama: CubeCraft stands out with its engaging community element. Collaborate with friends or players from around the globe. The social dynamics add another layer of exhilaration as you exchange ideas, compete in mini-games and celebrate your innovative architectural marvels together.
In conclusion, Kogama: CubeCraft is a refreshing kaleidoscope that paints vibrant landscapes with blocks - successfully situating itself as an absolute must-play within its Minecraft Games genre. If you seek exhilarating freedom amidst pixelated realms or simply wish to test your creativity's bounds with friends on dynamic canvases - this inclusive universe awaits your arrival!
What are the best online games?