Knifer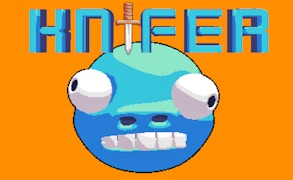 Knifer
Description
Welcome to Knifer, a thrilling arcade game with a sharp edge! In this game, you'll be tasked with the mission of demolishing floating faces using your razor-sharp knives. Carefully aim and hurl your blades at the looming targets. Be wary though as missing too many times will lead to your downfall. Showcase your deftness and precision in this cutting-edge game!
How to play
Your primary tool in Knifer is your mouse, which controls the direction of your knife's throw. Aim your pointer at the floating faces and click to release a knife. Your aim should be precise, missing too many times will cost you the game. To progress, continuously hit the targets successfully and rack up points.
Tips and Tricks
In Knifer, timing is everything. Monitor the movements of the faces before throwing your knives. Don't rush, take time to aim accurately. Also, remember that consecutive hits rack up combo points, increasing your score faster.
Features
Sleek and simple graphics ensuring smooth gameplay.
Constantly moving targets providing continuous challenges.
An intuitive control system based on point-and-click mechanics.
A scoring system that rewards accuracy and encourages improvement.
What are the best online games?