Klondike Solitaire Paradise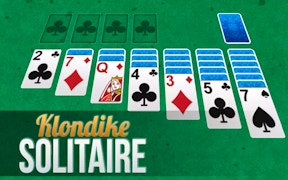 Klondike Solitaire Paradise
Welcome to the engaging and challenging world of Klondike Solitaire Paradise. It is not just another classic card game; it is an experience designed for both desktop and mobile devices, playable directly from your browser. Whether you're an avid card game enthusiast or just looking for a way to unwind, Klondike Solitaire Paradise serves as the perfect digital retreat.
Classic Gameplay with a Twist
At its core, Klondike Solitaire Paradise retains the essence of the classic Solitaire game you know and love. However, it introduces a Klondike variation that adds a refreshing complexity to the classic Solitaire gameplay. Unlike classic Solitaire, which involves dealing one card at a time, Klondike Solitaire deals three cards at once, making the game more challenging and engrossing.
Play Anywhere, Anytime
Klondike Solitaire Paradise transcends the boundaries of traditional gaming with its browser-based format. This means you can indulge in your favorite pastime on mobile or desktop devices, wherever you are, without needing to download an app or software. All you need is an internet connection and a desire for card-solving fun.
Accessible and Engaging
The game's design is focused on ease of use and engaging gameplay. The intuitive interface makes it simple for players of all skill levels to get started. Whether you're a seasoned Solitaire veteran or a newcomer to the game, Klondike Solitaire Paradise offers a compelling and enjoyable gaming experience.
So, why wait? Start your adventure in Klondike Solitaire Paradise today and experience a refreshing twist on classic card gameplay. Perfect your strategic thinking, and revel in the satisfaction that comes with mastering this intriguing variation of Solitaire.
What are the best online games?
Tags