Klondike Solitaire Panda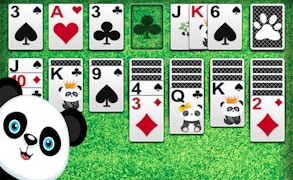 Klondike Solitaire Panda
Description
Step into the enchanting world of Klondike Solitaire Panda, a delightful rendition of the classic solitaire klondike card game. Enhanced with a cute panda theme, this game challenges your strategy and deduction skills. With elegant designs, fluid game dynamics, and pleasing sound effects, it offers an immersive gaming experience. It includes two play modes - Draw 1 and Draw 3, adding layers of complexity to your gameplay.
How to play
To play Klondike Solitaire Panda, simply drag or tap to move cards around the layout. The goal is to stack cards in descending order and alternating colors. You can choose from Draw 1 or Draw 3 modes depending on the level of challenge you seek. Use the unlimited free hints if you get stuck or undo moves to correct mistakes.
Tips and Tricks
Always remember to make moves that open up more opportunities for card transfers. Use free hints wisely for better progression in difficult scenarios. When playing in Draw 3 mode, take time to strategize your plays as it's more challenging than Draw 1 mode.
Features
Cute Panda theme: Makes the classic solitaire game more fun and enjoyable.
Two play modes: Choose between Draw 1 or Draw 3 mode based on your skill level.
User-friendly controls: Easy drag or tap movements for smooth gameplay.
Unlimited hints & undo moves: Helpful features when you're stuck or made a mistake.
Customizable: The game allows you to customize card faces, backs, and playfield background.
What are the best online games?
Tags