Kitty Take Care New Born Baby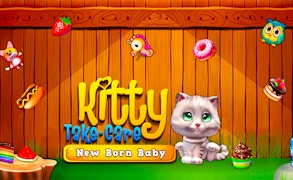 Kitty Take Care New Born Baby
Description
In Kitty Take Care New Born Baby, you step into the cute and exciting world of pet motherhood. This game enables you to help a mother cat look after her newly born kitten. The gameplay involves various tasks needed for the wellbeing of the baby kitten, like feeding, bathing, and dressing up. The game is designed to be both entertaining and educational for children, focusing on the responsibilities of taking care of a pet.
How to Play
The game operates with simple click-based controls. The player has to follow the given instructions step by step to successfully complete each task. From cleaning the kitten, feeding it milk, to keeping it snug in cute clothes - every task relates to real-life pet care activities. Progress in the game is measured by the health and happiness level of your virtual kitten.
Tips and Tricks
Pay extra attention to what your kitten needs by observing its reactions. Different situations will demand different approaches, so always be ready to adapt your strategy. A happy kitty will bring more points for you as a virtual pet caregiver.
Features
Lovable characters and adorable graphics that captivate players.
Engaging gameplay that teaches kids about pet care in a fun way.
Easy-to-master controls tailored for younger audiences.
A variety of tasks are available to keep players intrigued.
A positive feedback system that rewards attentive caregiving.
What are the best online games?