Kitty Care and Grooming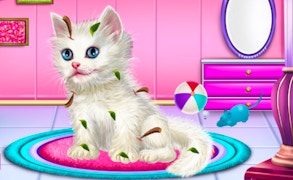 Kitty Care and Grooming
Are you in search of enchanting Games for Girls or perhaps you are hunting for captivating Games for Kids? Maybe you're specifically into animal games and cat games? Look no further! The game that checks all these boxes is the enchanting Kitty Care and Grooming. Let's delve into the vibrant universe of our cute little feline in distress needing your assistance!
In this emotion-filled odyssey, you play the role of a gallant rescuer, a kind-hearted soul who stumbles upon a sweet, little cat in dire straits. Our poor feline protagonist is not merely lost, but also nursing some serious health concerns. The game takes you on an empathetic journey where you're entrusted with the noble mission of nursing our tiny fur-ball back to health.
Get ready to unravel the extensive range of treatments available 'right at your fingertips' designed specifically to get our little kitty prancing back to her blissful, carefree cat life. Every time you assist her in shedding off the remnants of her unfortunate past, you feel an immense sense of satisfaction. This is not merely a game; it's an opportunity to make a palpable difference.
Moving past health recovery, 'Kitty Care and Grooming' doesn't stop at just restoring vitality. Once the healing is taken care of, it's time to pamper our adorable protagonist! Dive deep into the world of cute accessories and snazzy outfits! With every piece of clothing or accessory you choose for her, cheer is restored not just to her but also to the environment around her.
In essence, 'Kitty Care and Grooming' offers a wholesome gaming experience. Whether it's the warm waves of empathy washing over you as you nurse your cat back to health or the waves of joy that crash over when you see her endearing reaction upon being spoiled with attention; every moment is packed with emotions! This fascinating journey from being lost & forgotten to becoming loved & pampered makes 'Kitty Care and Grooming' stand head and shoulders above regular games for kids.
What are the best online games?