Kitchen Mahjong Classic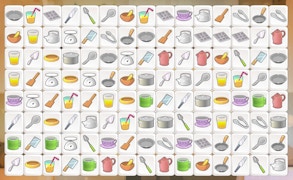 Kitchen Mahjong Classic
When it comes to Mahjong games, there's a smorgasbord of options available in the market. But what separates the wheat from the chaff is the game's theme, originality, and user experience. Cue in Kitchen Mahjong Classic, an iconic adaptation that brings a breath of fresh air to the ubiquitous Mahjong game.
As the name suggests, Kitchen Mahjong Classic presents a comforting kitchen theme that envelops you into its world with an intricately designed, appetizing aesthetic. Take delight as you uncover identical tiles intricately adorned with everything from a confectioner's whisk to a chef's hat. It's quite like rummaging through your grandmother's kitchen, but with a gaming twist.
What truly sets this Mahjong game apart is its well-calibrated difficulty curve that caters to players of all skill levels. Whether you are a seasoned Mahjong master or a casual player looking for a relaxed gaming experience - Kitchen Mahjong Classic has got you covered.
The tile-pairing mechanism is buttery smooth with intuitive controls and responsive mechanics enhancing your overall gaming experience. The playful banter between challenge and chance as you seek identical tiles gives just the right amount of adrenaline rush while maintaining the calming essence associated with traditional Mahjong games.
In conclusion, Kitchen Mahjong Classic cleverly merges the cerebral joy of traditional Mahjong tile matching with an inviting kitchen-themed backdrop sure to appeal to foodies and gamers alike. It provides endless entertainment and keeps players on their toes with ever-changing tile setups catering to different strategy patterns. And let's not forget - the very virtue of its name scores high on search engine rankings making it effortlessly discoverable for ardent Mahjong games fans around the globe.
What are the best online games?
TAGS