King Of The Hill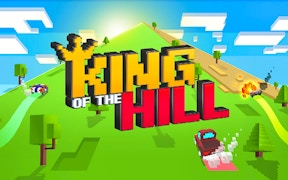 King Of The Hill
Every once in a while, a game emerges that flawlessly blends fantasy and action, and "King Of The Hill" is precisely one of those games. Situated within the fascinating realm of medieval warrior battles, this enthralling instalment in the popular genre of knight games, is a must-play for all enthusiasts out there.
Imagine this: you're the last line of defence against an onslaught by the mythical creatures known as Trawds. Your castle, your King, and your people's destiny are all at stake. You're not just playing a game; you're embroiled in an epic battle game where every decision counts and every move could be your last.
The gameplay offers an impressive roster of medieval heroes to choose from, each with their unique weapons and abilities. The selection process isn't merely about picking your favourite character; it's a tactical decision that could either fortify your castle or lead to its downfall. It's exactly this level of immersion that sets "King Of The Hill" apart among other monster games.
The tactical aspect is further enhanced by the monsters themselves - some creatures wield hidden abilities that keep you on your toes at all times. It's not just about having quick reflexes; strategic planning and anticipation are key here.
"King Of The Hill" also provides players with comprehensive instructions for combat (Z - Average Throw, X - High Throw, C - Low Throw). This ensures even beginners can quickly pick up the mechanics without feeling overwhelmed. The blend of these elements makes "King Of The Hill" not just another knight game but an exciting journey into medieval warfare.
All-in-all, "King Of The Hill" rises above ordinary battle games by offering deep strategy elements wrapped in a captivating fantasy setting. Whether you're a die-hard fan of knight games or someone looking for a fresh gaming experience, this well-crafted adventure won't disappoint.
What are the best online games?