Kids Puzzle Sea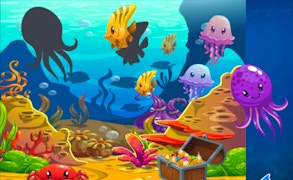 Kids Puzzle Sea
Engaging, educational and entertaining: "Kids Puzzle Sea" tightly weaves these elements together, effectively carving out a notable space in the busy domain of games for kids. Set in the vibrant underwater universe, this game is designed to stimulate young minds while ensuring they have fun.
From the get-go, 'Kids Puzzle Sea' stands out as one of those intelligent animal games that not only entertains but educates. The game employs an innovative drag and drop mechanic where kids are tasked with fitting various sea creature silhouettes into their correct places. This puzzle element encourages cognitive development and promotes hand-eye coordination - critical skills in early childhood.
The essence behind Kids Puzzle Sea lies in its simplicity: matching animals onto their corresponding silhouettes reminds one of the classic jigsaw puzzles; but this digital interpretation raises the stakes with its charming aquatic theme. As each piece falls into place, children get to learn about different sea animals, effortlessly combining playtime with learning.
Educational games can sometimes face criticism for being overtly academic or dull. But Kids Puzzle Sea wonderfully sidesteps this pitfall. It's been cleverly crafted to ensure that while little gamers are engrossed in getting their dolphins and turtles in the right spots, they're also consuming nuggets of knowledge unconsciously. There is no 'losing' here - every 'mistake' just means a new chance to learn and grow.
Stepping beyond function, it's worth noting how visually appealing Kids Puzzle Sea is. The game boasts colorful graphics that would surely captivate any child and keep them hooked for hours on end. In conclusion: If you're scouting for games for kids, add Kids Puzzle Sea to your list. Its delightful blend of education and entertainment guarantees it to be a big hit with young gamers globally.
What are the best online games?