Kids Puzzle Adventure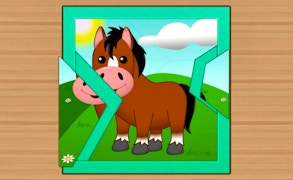 Kids Puzzle Adventure
Dive into the vibrant world of Kids Puzzle Adventure, a potpourri of creativity, fun and learning, specifically designed for young gamers. This delightful piece of game art intriguingly merges the realms of educational games and fun-filled entertainment.
The game offers a captivating adventure spread across various settings such as a lush farm, an endless ocean, or even the fascinating prehistoric era. It brilliantly encompasses the appeal of animal games by infusing playful elements within an engaging puzzle framework. With each jigsaw piece that falls in place, your kid uncovers animals or objects hidden within the pictures, making it one of the most creatively stimulating Games for Kids.
Kids Puzzle Adventure is not just a game– it's a treasure trove of knowledge. While playfully placing puzzle pieces together, your child simultaneously strengthens their cognitive skills, problem-solving abilities, and spatial awareness. The thrill to uncover hidden images also spikes curiosity and fuels the adventurous spirit in your little one.
The striking graphic visuals are easy on young eyes while managing to stimulate their imagination vividly. From frolicking farm animals to dazzling marine life to intriguing prehistoric creatures, each theme opens a window into a new world for your child.
The beauty of Kids Puzzle Adventure lies in its simplicity yet strong educational value. It creates an appealing and constructive gaming space where your little explorer can enjoy while learning at their own pace.
In conclusion, Kids Puzzle Adventure stands out in the realm of innovative and stimulating educational games, combining puzzle-solving fun with interactive learning outcomes. The thrilling mix of puzzles and animal themes make it an irresistible pick in the list of superbly crafted Games for Kids.
What are the best online games?