Kids Block Puzzle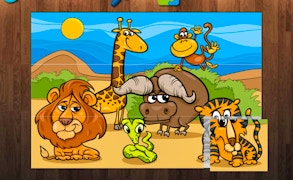 Kids Block Puzzle
Welcome to the sparkling world of Kids Block Puzzle, an enrapturing and mind-stimulating wonder amongst games for kids. Crafted to challenge yet entertain, this captivating puzzle game is the best amalgamation of fun and learning for your little ones. It brilliantly merges the excitement of animal games with the cognitive development advantages of educational games.
The essence of Kids Block Puzzle revolves around exciting animal-themed puzzles. The main task? Drag and drop blocks onto an outlined field, aiming to complete a picture like a jigsaw puzzle. As engaging as it sounds, it's a gratifying journey that keeps luminous young minds occupied, while indirectly strengthening their problem-solving and critical thinking skills.
This lovable puzzle game presents bright, colorful graphics with vividly depicted animals that immediately attract young eyes. Not only does it manage to hold their attention but also educates them about different types of animals in a light-hearted manner. A unique aspect of this game is its wonderful melding of educational content within its entertaining gameplay; truly setting itself apart from other typical games for kids.
The enchanting universe of Kids Block Puzzle leaves no stone unturned when it comes to player satisfaction. The controls are user-friendly and designed specifically for little fingers with an intuitive drag-and-drop mechanism. The rewarding rush when a puzzle completes is unparalleled, fueling youngsters' sense of accomplishment.
In conclusion, Kids Block Puzzle impeccably caters to children's inherent curiosity and love for animals as well as their eager thirst for learning new things. It stands tall among other games for kids, making it a must-have in your compilation of enriching educational games. For parents searching for screen time that not just entertains but also stimulates young minds, this game wonderfully fills that space.
What are the best online games?