Kids: Animal Fun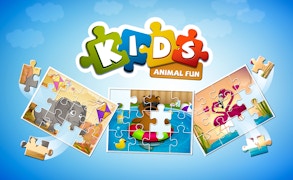 Kids: Animal Fun
Description
Engage in a world of entertainment and learning with Kids: Animal Fun. This game features adorable animals in various scenarios, pieced together through fun jigsaws. It's not just about entertainment - it also fosters the development of your child's cognitive skills, fine motor skills, focus, and even their patience. The best part is, there's no clean-up required!
How to play
Playing Kids: Animal Fun is as simple as drag and drop. Kids will choose a jigsaw puzzle featuring cute animals to construct. Touch the piece and drag it into its appropriate spot on the puzzle board. Once completed, kids can move onto the next puzzle. Each successful completion aids in enhancing their developmental skills.
Tips and Tricks
Start with the outside edges of the puzzle first to form a frame - this will make it easier to place inner pieces. Also, observe the puzzle picture carefully before starting so you have a good idea of what it should look like completed.
Features
Variety of puzzles: Features numerous puzzles with different animal themes for a diverse experience.
Educational: Enhances cognitive abilities including focus and fine motor skills.
User Friendly: Easy drag-and-drop mechanics make it simple for children to navigate.
No mess: Offers all the fun of physical jigsaws without any cleanup required!
What are the best online games?