Kick Ups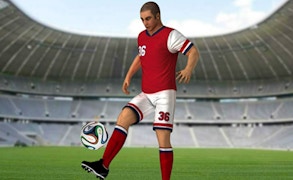 Kick Ups
Roll up all sports enthusiasts, particularly those who fancy soccer games, ball games, and football games. If you have a penchant for dexterity and quick reflexes, then the game Kick Ups is just the challenge you need.
Kick Ups is not your average HTML5 Sport game. Infused with a rich display of vibrant graphics and an intuitive interface, it brings to life the riveting experience of a high-paced soccer match. The key rule? Keep the ball off the ground! Your juggling skills will be put to the test as you endeavor to beat your records.
With two entertaining game modes on offer, gamers can easily switch from one challenge to another based on their mood or skill level. The Normal mode, a staple feature in most football games, requires that you kick the ball as many times as possible without any interference or alteration in gravity. It's all about agility, timing, and precision.
If you're one that relishes more stringent challenges, then gear up for Kick Up's unique Challenge Mode. This mode introduces a whole new level of thrill where gravity increases with each kick. It's like playing keepie-uppie on Mars! The ever-increasing gravity adds a riveting twist to your usual soccer game, making every move count even more.
Kick Ups brilliantly captures the essence of real-world soccer and combines it with imaginative gameplay that keeps players hooked for hours on end. So go ahead and pull up those socks because Kick Ups is ready to deliver an exhilarating ride in the world of HTML5 sport game.
In conclusion, whether you're a novice seeking some fun action or a seasoned gamer looking for new challenges within soccer games, Kick Ups promises an engaging gaming experience unlike any other.
What are the best online games?