Kick the ball and shoot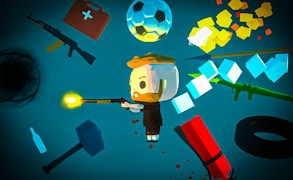 Kick the ball and shoot
Description
Experience the action-packed and heart-racing arcade game, Kick the ball and shoot. In this unique sports adventure, your mission is to skillfully control a character that uses its head to propel a ball while maneuvering through a course littered with numerous obstacles. Ranging from rocks to fire extinguishers, these hindrances require quick thinking and precision. With an arsenal of weapons at your disposal, you can obliterate these obstacles in your path. Moreover, strive to unlock exciting in-game rewards through achievements.
How to play
The gameplay is simple yet addictive. Tap to make your character hit the ball with their head. Carefully navigate through the obstacle-laden playground. Use collected weapons like guns and shield by tapping them to destroy obstacles coming in your way. The game progression heavily depends on your performance each round, which affects what power-ups, skins, sounds, and music you will unlock.
Tips and Tricks
Timing is crucial in avoiding obstacles ideally; watch for their patterns and adapt accordingly. Remember that using weapons efficiently can greatly ease your progression; it's often better to save powerful weapons for bigger obstacles. Focus on completing achievements as they unlock additional power-ups enhancing your gaming experience.
Features
Pulsating arcade activity with a unique ball-bouncing mechanic.
A variety of upgradeable weapons including pistols, machine guns, grenade launchers, etc.
Diverse range of formidable obstacles like rocks, spears and more.
In-game achievement system encourages skill progression.
A wide assortment of unlockable items including power-ups, skins, sounds and music.
What are the best online games?
Tags