Kart Fight.io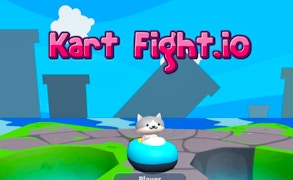 Kart Fight.io
Welcome to the thrilling world of Kart Fight.io, an exciting blend of car games, cat games, battle games, survival games and Skill Games. This action-packed adventure game brings a unique blend to the .io genre that will keep you on the edge of your seat from start to finish.
In this stunning arena-based survival game, your primary objective is to knock out your opponents out of the arena. This game is not just about speed and agility but also strategy and precision. As you successfully hit and shove your opposition off the platform, you'll grow in size and power. It's a beautiful metaphor for struggle, domination, survival, all wrapped up in an incredibly engaging gaming experience.
One element that truly stands out in Kart Fight.io is its sophisticated gameplay mechanics. The game requires a perfect blend of finesse and aggression - hit too softly, and you won't make an impact; hit too hard without proper aim, and you may find yourself off the edge. With every opponent you knock out of the ring, your kart grows bigger and stronger, turning into a ferocious fighting machine.
The stunning graphics enrich your immersion in this chaotic yet delightful battle environment where foresight is as crucial as quick reflexes. Furthermore, Karts styled after funny cat characters add a whimsical charm to this thrilling battle atmosphere.
In conclusion, Kart Fight.io is an outstanding game that injects fresh life into car games with its innovative integration of cat themes into gripping survival combats. This is a must-try for those who love fun-filled chaos and intense strategic battles with their furry friends on wheels.
What are the best online games?