Just Color!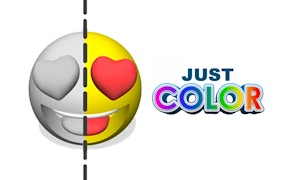 Just Color!
As a master of puzzle games, I was eager to dive into the vibrant world of Just Color! This charming new entrant in the realm of coloring games promises to stimulate your brain, tickle your artistic fancy, and offer hours of thrilling gameplay.
The concept is deceptively simple: you're presented with a variety of intriguing objects, all bereft of their natural hues. Your mission? To inject them with vibrant life by adjusting the color sliders to match the reference pictures. It's not just about going with your gut - it's about choosing colors thoughtfully and strategically, like a true artist.
I reveled in the stunning array of objects awaiting my creative touch, each one more intricate than the last. The vast spectrum of colors was a treat for the senses; it's not every day you get to paint with every hue under the sun. But beyond being visually stunning, Just Color! also proved to be a delightfully challenging brain game, teasing my cognitive abilities and sparking my creativity.
The game operates on two levels: on one hand, it's a relaxing foray into the world of digital art. On the other hand, it's a test of your analytical skills and eye for detail. But no matter how you approach this engaging coloring puzzle, one thing is certain: you're bound to have immense fun.
Just Color! is among those rare breeds of fun games that manage to strike a balance between relaxation and mental stimulation. It's not just a game; it's an experience that resonates long after you've powered down your device.
If you're ready for a fun-filled journey that marries artistry and analytics - look no further than Just Color!
What are the best online games?