Jungle Hidden Animals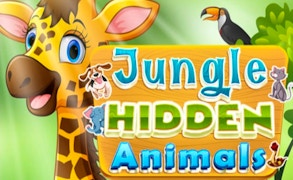 Jungle Hidden Animals
Welcome to the wild and joyful world of Jungle Hidden Animals - an enchanting game that cleverly combines the thrill of hidden object games and animal games into one. This delightful game, tailored especially for Games for Girls and Games for Kids, is sure to stretch those little grey cells in your head while giving you a roaringly good time.
The premise is as simple as it's engaging. As you journey through the lush jungle landscapes, your task is to spot and identify the playful cartoon animals that are artfully concealed within the scenes. There's a time limit, and with each level you progress, the challenges get more interesting. Forget about 'needle in a haystack', this is 'a chameleon in a jungle' kind of fun!
In the world of kids' animal games, Jungle Hidden Animals stands out with its stunning visuals, splendidly colourful and packed full of endearing animal characters. The intriguing element of hidden object games makes it not only a source of fun but also an excellent tool for developing concentration, patience and observation skills.
Are your eyes sharp enough to spot that leopard lazily reclining in the trees or that cute parrot blending with colourful flowers? It's not just about finding animals; it's also about speed. Yes, keep an eye on the ticking clock! Your score relies on both your detection skills and your quick reflexes.
If you're looking for perfect Games for Girls or entertaining Games for Kids, then look no further than Jungle Hidden Animals. It's more than just a game; it's an exciting adventure that invites players to embrace their inner explorer. Whether you're someone who loves animal games or someone looking for an enthralling hidden object game - this game promises a thrilling ride through the heart of a virtual jungle teeming with secrets waiting to be discovered.
What are the best online games?