Jungle Bubble Shooter Mania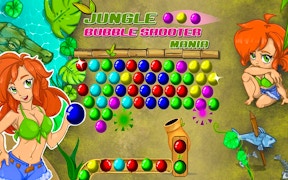 Jungle Bubble Shooter Mania
Step into the lush, verdant virtual world of Jungle Bubble Shooter Mania, the latest addition to the thrilling genre of arcade ball games. An addictive, colorful twist on classic Bubble Shooter Games, this game brings all the fun and excitement of bubble shooting into a rich jungle setting that's as entertaining as it is immersive.
The premise is simple yet captivating – shoot and pop bubbles in an sprawling jungle landscape, guided by your skill, strategy and a whole lot of fun! And with its daily rewards, boosts, and power-ups, Jungle Bubble Shooter Mania proves to be a game that is not just about blowing bubbles, but also about strategizing and carefully planning your moves for maximum points.
The game shines brightest with its unique jungle-themed backdrop. The gameplay comes alive in this vivid setting as you traverse through various levels popping colorful bubbles with precision. Each bubble destroyed yields points, helping you climb up the leaderboards and achieve gaming glory.
What makes Jungle Bubble Shooter Mania standout among other Bubble Shooter Games are its cool bubble elements. Pop matching bubbles to unlock unique power-ups that aid in your bubbly pursuit. These power-ups not only intensify the gaming experience but also add an edge to your strategy.
As you dive further into the jungle landscape, the challenges get tougher but so do the rewards. At every turn there's something new to discover making each gaming session fresh and exciting. With its dynamic gameplay and vibrant graphics, Jungle Bubble Shooter Mania delivers a satisfying blend of challenge and relaxation that will keep you coming back for more.
In conclusion, whether you're a hardcore gamer looking for your next arcade fix or someone on the lookout for casual gaming fun – Jungle Bubble Shooter Mania is a must-play! Immerse yourself in one of the best ball games out now; a world where relaxation meets exhilaration - only in Jungle Bubble Shooter Mania!
What are the best online games?