Jumper Frog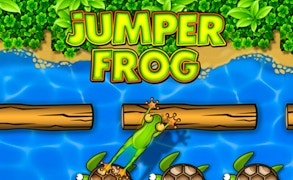 Jumper Frog
Immerse yourself in the whimsical world of Jumper Frog, a delightful escapade into vibrant realms, brimming with teeming wildlife and bountiful challenges. As an addition to the acclaimed animal games genre, Jumper Frog takes inspiration from the iconic classic arcade game, Frogger, and polishes it with a fresh, modern HTML5 coat of paint.
Navigating through fast-paced traffic, hopping on moving logs and lily pads, Jumper Frog is more than just an arcade game; it's a test of precision, timing, and strategy—a perfect treat for those thirsting for skill games.
Your mission - guide our amphibious hero from the bottom of the screen to one of the five welcoming coves at the top. Just remember, your journey won't be a walk in the park; it's a wild, untamed world out there! The vibrant graphics bring the game alive with popping colours and fluid animation that would charm even the most cynical gamer.
The controls are simple yet responsive; slick enough for both casual gamers looking for some fun and hardcore players wishing to indulge in some serious 'frog-jumping' action. Bring your best timing skill and lightning-fast reflexes as you hop on trucks, logs and lily pads to reach your destination safely.
Jumper Frog brilliantly blends nostalgia with modern gaming aesthetics while capturing that classic arcade thrill—an absolute must-play for lovers of retro-inspired arcade games or thrilling animal games. This is one leap you don't want to miss!
If you're craving challenging gameplay rooted in timeless mechanics or just looking to revive your cherished 'frog-hopping' memories—Jumper Frog is your ticket to a compelling amphibian adventure.
What are the best online games?
Tags