Jump.io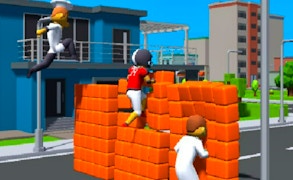 Jump.io
Step into the thrilling world of Jump.io, an exhilarating addition to the arena of running games that tests your skill and reflexes. If you're hunting for fun games and Skill Games that simultaneously serve as a heart-pounding challenge and an adrenaline-boosting experience, then you have come across the perfect match.
Jump.io is designed to give you a riveting gaming experience where your agility, quick thinking, and precision hold the key to success. The task seems simple: jump over obstacles. However, it's the fast-paced environment and the competitive spirit that turns this straightforward mission into an electrifying race against time and fellow players.
This captivating game is not just about jumping over hurdles; it's about outmaneuvering your opponents to claim the coveted title of the winner. Each game is a unique battlefield, a test of endurance, focus, and dexterity. The more you play, the more your reaction time improves, transforming you from a novice jumper to a seasoned leaper in no time.
Skillfully intertwined with competitive elements, Jump.io is far from being just another running game. It's a fun-filled online adventure that pushes your gaming skills to their limits while ensuring an enjoyable experience throughout your journey. The thrilling competition, coupled with lively graphics and intuitive controls make this gem a standout in the realm of .io gaming.
In conclusion, whether you're seeking quick entertainment or looking forward to honing your reaction skills through an engaging gaming experience, Jump.io has everything on offer. Its captivating gameplay and interactive online platform guarantees a fun-filled gaming session every time you log in. So why wait? Dive into this vibrant world of jumps and races now!
What are the best online games?