Jigsaw Puzzle: Famous Paintings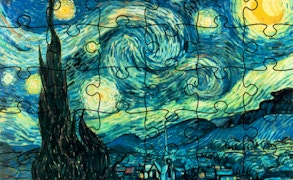 Jigsaw Puzzle: Famous Paintings
Welcome to our latest review of a fascinating game that seamlessly combines enjoyment and learning, particularly designed for the young minds. Jigsaw Puzzle: Famous Paintings is the perfect fusion of games for kids, family games, and educational games.
This remarkable game takes the classic jigsaw puzzle concept and breathes fresh new life into it. With 16 meticulously curated famous paintings, your kid steps into a vibrant world that sparks curiosity and fosters a love for art. Not just another jigsaw puzzle; it's a doorway to experiencing the magic of famous artworks while having immense fun.
In Jigsaw Puzzle: Famous Paintings, the timeless enjoyment of puzzling is beautifully fused with a unique educational journey. The kids get enriched with knowledge about various renowned artists and their masterpieces. This game effectively redefines educational entertainment, making it one of the most engaging
games for children
.
The graphics are truly impressive – the details, colours, textures all work together to recreate famous paintings that look stunning on your screen. The difficulty level is finely balanced to provide enough challenge without getting overly complex. This makes it an engaging family game where everyone can participate in piecing together these fabulous works of art.
To sum up, Jigsaw Puzzle: Famous Paintings is not just another addition to your gaming collection; It's an opportunity to ignite creativity and learn about the world's artistic heritage in an interactive way. Whether you are seeking educational games that keep your children captivated or looking for family games that offer wholesome entertainment, this kid-friendly jigsaw puzzle game settles elegantly on all counts.
So go ahead; let your little ones dive into this vibrant world of artistry while you sit back and cherish their amazed expressions as they uncover one masterpiece after another.
What are the best online games?