Jigsaw Puzzle: Doggies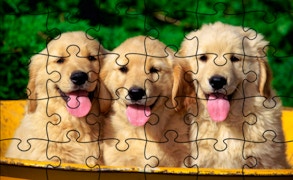 Jigsaw Puzzle: Doggies
Unleashing my review today on the delightful Jigsaw Puzzle: Doggies, a captivating entrant in the domain of games for kids and enjoyable family games. As one of the most heartwarming animal games I've experienced, it wags its tail with love and fun, delivering entertainment to both young and older game enthusiasts.
This is not just another jigsaw puzzle; it's a parade of adorable doggies leaping out from the screen, each piece unveiling an irresistible image that will make you go 'aww'. Right from Poodles to Pugs, Labradors to Bulldogs, it's a pooch party you wouldn't want to miss.
The game is brimming with vibrant and detailed animations; it brings out the playful spirit of these furry friends in each puzzle. The cute little noses sniffing around, wagging tails, playful barks - this game truly embodies the essence of our canine companions. The gameplay is smooth with intuitive controls that even tiny hands can master. It's definitely a dog lover's treat!
Apart from the charming visuals, what makes Jigsaw Puzzle: Doggies stand out among other games for kids is how engaging it is. There are numerous levels of difficulty to choose from making this among those perfect family games. It takes everyone on an adventure through different breeds, environments, and settings.
In conclusion, Jigsaw Puzzle: Doggies goes beyond being just one of those regular animal games. It combines love for dogs and passion for puzzles into one enriching experience. It's a perfect activity for a family night or even when your little ones need something constructive yet fun to spend their time on. With its cheerful animations and challenging puzzles, this game surely knows how to keep its players hooked!
What are the best online games?