Jigsaw Puzzle Deluxe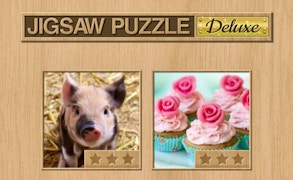 Jigsaw Puzzle Deluxe
Welcome, puzzle enthusiasts and gaming aficionados, to our detailed review of the delightful Jigsaw Puzzle Deluxe, a game that seamlessly merges relaxation with riveting brain-challenges, proving once again, that games for kids can be equally absorbing for the adult audience.
As the apt title suggests, Jigsaw Puzzle Deluxe is a distinctive representative of family games. This masterful game invites players into a rich and entertaining world of animals through its uniquely tailored animal games, making it an excellent choice for those parents seeking quality time with their children while exercising their gray cells.
The moment you launch Jigsaw Puzzle Deluxe, you are greeted with an array of colorful puzzles featuring endearing animals that captivate not only a child's interest but also stimulate their cognitive abilities. The game's user-friendly interface ensures that kids of all ages can relish the fun without any hindrance.
Jigsaw Puzzle Deluxe is not just about matching pieces to complete an animal image; it's about immersing in an engaging journey that enhances your problem-solving skills while providing a relaxing experience. The puzzles vary in difficulty levels which cater to different age groups and abilities, thereby promising fun-for-all in the family.
What sets Jigsaw Puzzle Deluxe apart from its peers is how brilliantly it incorporates education into entertainment. Learning about animals becomes an integral part of gameplay - an effective way of teaching children about the natural world around them. From the roar of the lion to the trill of birds – every sound effect contributes to the overall immersive experience of this wonderful educational tool disguised as play.
In conclusion, Jigsaw Puzzle Deluxe stands as a testament to how games for kids can blend fun and learning. It's not just a game; it's your go-to solution for family bonding over puzzles, making learning about animals enjoyable. By offering wholesome entertainment value in a stress-busting package, Jigsaw Puzzle Deluxe genuinely deserves its place in every family's gaming library.
What are the best online games?