Jewel Blocks Quest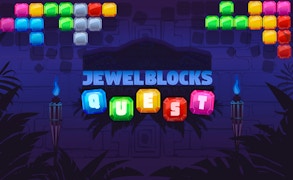 Jewel Blocks Quest
Description
Embark on a mind-boggling journey with Jewel Blocks Quest, a classic arcade-style puzzle game set in an enchanting world. This game presents an endless sequence of levels that test your logic and strategic skills. Beat your high score by placing uniquely shaped blocks on the grid to form unbroken lines, which will then disappear, freeing up more space for new shapes.
How to play
Playing Jewel Blocks Quest is straightforward. Simply drag and drop the blocks onto the grid to form lines or columns. Completing a full line or column causes it to vanish, granting you points and freeing up room for more blocks. The game ends when you run out of space to place new blocks. The aim is to score as high as possible before that happens.
Tips and Tricks
Plan your moves! It's easy to get stuck with unusable blocks in Jewel Blocks Quest. Try predicting where you'll place future shapes based on the current layout of the board. Always aim to clear lines in multiple directions at once for maximum points!
Features
Engaging and complex gameplay that tests your strategic skills.
Infinite levels providing non-stop fun.
An immersive mystical atmosphere for an added layer of intrigue.
An easy-to-understand scoring system that pushes you to beat your own records.
What are the best online games?
Tags