Jack Pumpkin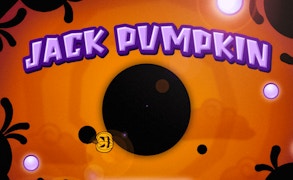 Jack Pumpkin
Description
In Jack Pumpkin, you take control of a magnificent pumpkin character named Jack. Traverse through a world that spins around you, driven by gravity. Your mission is to maneuver Jack across platforms, overcoming challenges and collecting pearls. This thrilling adventure game will stimulate your problem-solving skills as you explore various levels in a captivating environment.
How to Play
The game controls are simple and straightforward. Use the arrow keys on your keyboard to control Jack's movement in the upside-down world. Your ultimate goal is to collect all the pearls scattered across the game while navigating through the rotating landscape and complete all levels. Remember, gravity is your ally here!
Tips and Tricks
Use gravity to your advantage when moving from one platform to another. Be strategic with your movements and time them accurately to safely land on platforms. Also, keep an eye out for hidden pearls - they could be anywhere!
Features
Creative Gravity Mechanics: Unique gameplay that leverages gravity for explorative adventure.
Pearl Collection: Gather pearls throughout the game for progression.
Mystic Environment: Engaging platforms set in a mystical pumpkin-themed universe.
User-friendly Controls: Easy-to-use controls perfect for gamers of all ages and experience levels.
What are the best online games?