Impostor.io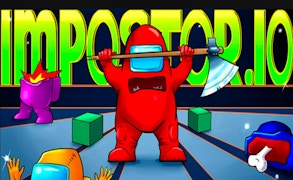 Impostor.io
Enter the chaotic cosmos of Impostor.io, a game where survival of the fittest is not just a saying, but the law that governs every action. Drawing inspiration from the cult-favorite Among Us, Impostor.io presents a completely fresh take on the battle genre, putting your skills to the ultimate test. You'll surely get immersed in this addictive game as it blends elements of battle games, sword games, and survival games in one compelling package.
The premise is simple yet engaging: defeat other players to evolve into a superior life form. There's no room for subtlety here - it's all about bold moves and strategic planning. The intuitive controls will have you slashing, punching, and battling your way to the top of the leader boards, collecting crucial energy cubes to bulk up your abilities and rise above your fellow combatants.
Unlike most other games in its genre, Impostor.io ditches underhand tactics in favor of all-out warfare. With stunning graphics and crisp animations, every skirmish feels palpable and intense. And let's not forget those riveting sounds effects that truly bring each clash to life.
This addictive game isn't just a carnage fest where brute force prevails; you need strategy to really conquer the cosmos. Knowing when to strike, when to gather resources, or when to retreat could mean difference between survival and extinction.
In conclusion, Impostor.io is an exhilarating addition to the .io realm that redefines the norms of typical battle games and sword games. It's a standout title that demands attention from anyone seeking an adrenaline-pumping experience wrapped up in a neat survival package. Remember: it's kill or be killed out here—so strap on your helmet, pick up your weapon, and get ready for some out-of-this-world action!
What are the best online games?