Impossible Stunt Tracks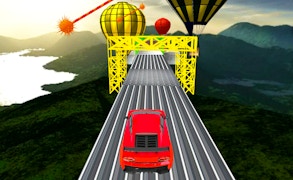 Impossible Stunt Tracks
Get ready to leave tire marks on the dirt as we dive into the adrenaline-filled world of Impossible Stunt Tracks, a game that proudly stakes its claim among elite car games and invigorating driving games.
Meticulously packaged with heart-stopping, palm-sweating challenging levels, this is not your standard stroll-around-the-park driving experience. Bracing yourself behind the wheel of an array of high octane machines, each boasting a selection of visually stunning multiple car skins, you're set for a ride that will have your heart racing faster than your virtual speedometer.
The game immerses players into an intoxicating offroad environment, making it an absolute must-try in the realm of offroad games. Unforgiving terrains and gravity-defying stunt tracks that live up to the name 'Impossible' are par for the course. But let's face it: it's not about how hard you can hit... it's about how hard you can get hit and keep moving forward, right?
The graphics are crisp and impressive, with close attention to detail that will leave both seasoned gamers and novice drivers appreciatively nodding. And when it comes to playability, Impossible Stunt Tracks scores highly with intuitive controls that blend seamlessly with the game's unpredictable nature.
In conclusion, if you've been on a relentless quest for a spine-chilling addition to your arsenal of favourite racing games, then Impossible Stunt Tracks might just be your golden ticket. This is more than just a car game; It's an unforgettable adventure full of heart-stopping twists and turns that will keep you coming back for more.
What are the best online games?